'The child died as he was born, in between my legs'
作者:展闫缰
On 2 January, Shamimu Nabasirye gave birth to a baby boy, who died as he was born.
Nabasirye had attended antenatal clinics at the rural Namwezi sub-county health centre, three times in nine months, where she was always advised to do less of her daily household chores and get more rest. She knew this was not possible but she nodded her head in agreement to make the midwife happy.
"I was at home without help, doing many chores to sustain my three children from a failed marriage as well as my new husband, Isima, who is a casual worker in Jinja town," she says. "I had to wash clothes, fetch water and firewood from a distance of 5km, prepare food and also dig the fields. At the end of every day, I was extremely tired and yet I also had to satisfy the sexual needs of my partner," says Nabasirye.
She first got pregnant at the age of 15. "I was at my parent's home in Bugerere and in a primary school," she says. Her parents forced her to marry the man who had impregnated her. When the marriage failed, she moved to a village near Njeru town in Buikwe district, 54km from Uganda's capital, Kampala, in search of work. There she met Isima.
When Nabasirye went into labour this month, she could not afford the transport costs to go to Namwezi health centre. She needed about £5 to hire a car to get there, about a week's earnings for her husband – but he had not been paid his wages for November or December.
Her husband was still at work when her labour pains started. When she couldn't get hold of the money for a car, her neighbours advised her to seek help from the , who often helps women give birth even when they do not have cash, knowing they will come back to pay later.
"This woman saved my life, although she did not save my baby," says Nabasirye, refusing to name or blame the birth attendant. "The child died as he was born, in between my legs."
According to Ugandan custom, the baby had to be buried in her husband's village, Bugiri, which is 80km from where the couple live. It is not done to take a coffin on public transport, and yet the couple did not have the £40 need to hire a private vehicle to take them to Bugiri.
The couple put their baby son's body into a suitcase and took it as luggage on the public minibus which carries about 14 passengers.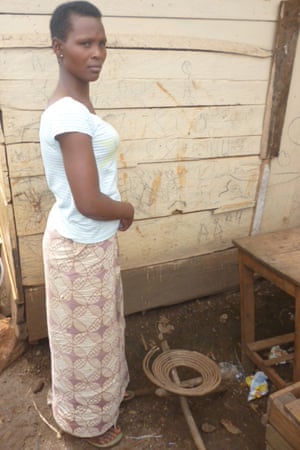 "I felt so bad having to transport my baby that way," she says, with tears rolling down her face. "We had to pack clothes on top on his body, lest people suspect we were transporting a dead body. Even if your child dies at birth, he should be buried well. No one escorted us from where we live although when we arrived in the village there were a few people waiting for us to attend our son's burial."
Nabasirye says people have accused her and her husband of not being prepared with enough cash for the birth of their child, but that sometimes such situations are unavoidable. "My husband hadn't been paid for two months. He also feels bad that he lost his first born child, but people just blamed us. I feel bad too but God will help us get another child," she says.
Saddam Longa, the local civil defence officer in the couple's village, says stillbirths in his area "trouble many women and go unnoticed all the time. die and children die. It is the order of the day. Sometimes the medical personnel are blamed, sometimes it is women who miss antenatal and medical examination."
He says sometimes health workers ask pregnant women for payment – which they may not have. Longa believes that the Ministry of must discipline these health workers, otherwise pregnant women and their babies will continue to die in and out of hospital.
Nabasirye says she will be ready with cash when she gets pregnant again, because her experience has taught her a lot.
But Faridah Luyiga, from the citizen-led campaigning network White Ribbon Alliance , says: "We are holding the government to account for the health services they have promised to the people. This can prevent the painful losses suffered so often in silence by mothers and fathers in my country."
• Njaleruma Kigozi is a in Uganda